Working principle of autoclaved fly ash brick production line:
Under high temperature and humid conditions, the various constituent materials react with each other to produce a series of hydration products, such as calcium silicate hydrate, calcium aluminate hydrate, calcium aluminosilicate hydrate and calcium sulfoaluminate hydrate. These products cement the solid particles in the concrete together to form a firm overall structure, and make the artificial stone products have strength.
Introduction of Autoclaved Fly Ash Brick Production Line:
The autoclaved brick with sand or industrial waste (fly ash, mineral dressing powder, slag, gangue) as the main raw material is an artificial stone with many properties better than solid clay bricks.
Autoclaved fly ash bricks are made of coarse coal ash (slag) and quicklime mixed with appropriate amount of sand aggregate and gypsum, after batching, stirring, digesting, rolling, pressing and curing, and then cured by high-pressure saturated steam Wall Materials.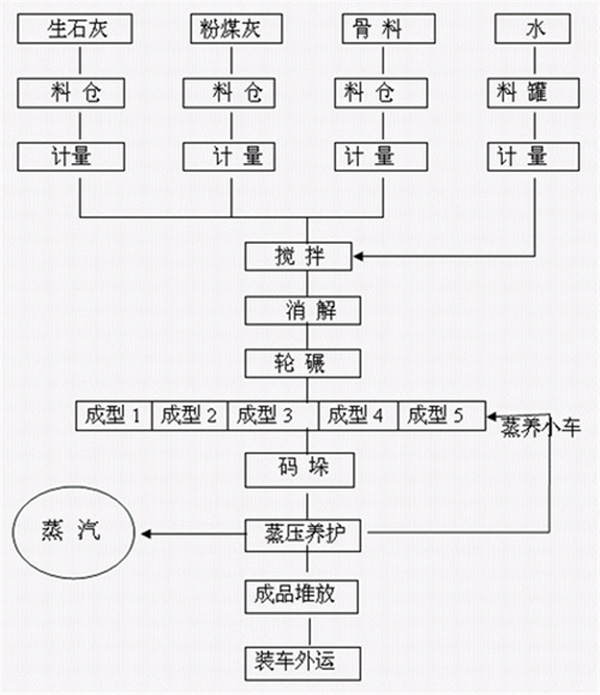 Main technical parameters of autoclaved fly ash brick production line:
model
500T630T850t1100T1300T

Nominal pressure5000KN6300KN
8500KN
11000KN
13000KN
Molding cycle
15-20s15-20s15-20s15-20s15-20s
Equipped with power
55kw
62kwSahko100kw
110kw

Number of forming blocks/mode
16 pieces20 yuan
24 pieces
36 pieces
48 pieces

Remarks: The mold can be customized according to the needs of users; the size of the brick is different, the molding cycle and output are different.
Annual outputThere are 30 million bricks, 40 million bricks, 60 million bricks, 100 million bricks, and 120 million bricks. The production line can be configured according to your needs. Welcome to call for quotation 13503823685
Finished brick display of autoclaved fly ash brick production line:


Prev: Autoclaved Technology of Fly Ash Brick Production Line