The temperature in summer can reach as high as 40 degrees. How to ensure the normal operation of the cement brick factory in summer, we must first do a good job in cooling concrete block machine for sale. The already high temperature climate, coupled with the rolling and paroxysmal high temperature of the machine, will bring problems to the production of the cement brick factory if it is not cooled in time. So how to do the cooling homework well?

The concrete block machine factory provides you with the following suggestions, hoping to be helpful to the brothers who run the brick factory.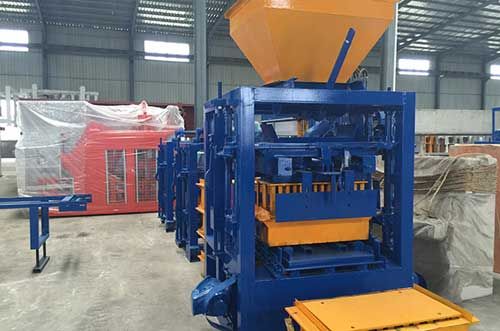 First of all, the motor in the full-automatic hydraulic press equipment is in uninterrupted operation for a long time. High-speed rotation will make the temperature of the motor higher and higher. The hydraulic brick machine operator can reduce the temperature of the full-automatic hydraulic brick machine through the blower to ensure that the hydraulic concrete block machine for saleis often in low temperature during operation.
Secondly, the most important thing is to advocate the machine, clean up the oil and dust on the machine, and avoid the lack of heat dissipation caused by excessive pressure on the machine or other details.
In the end, it is necessary to make up for the simple oil leakage on the full-automatic hydraulic concrete block machine equipment, especially the oil. Other parts shall be maintained, repaired and replaced. When the hydraulic brick machine equipment is not in use, try not to be exposed to the high temperature as far as possible, and put it in a cool place may be to adopt certain measures to ensure the integrity rate of the equipment during high temperature operation.
Our company specializes in producing unburned concrete block machine for sale. If you have any intention in this regard, you are welcome to call and inquire about relevant equipment at any time. We provide you with concrete technical data such as brick making technology, production line equipment and feasibility analysis statement of brick making project.
Prev: Precautions for Automatic Brick Making Machine
Next: Performance Characteristics of Concrete Brick Making Machine