With the continuous development of industrial technology, and low carbon environmental protection increasingly loud slogans, development of new environmental protection building materials has become the core task, and puts forward new requirements for energy-saving building, the market of building materials product of energy saving, consumption reduction, environmental protection index requirements also more and more high, the energy saving building materials conform to the development of energy-saving, environmental protection situation, become the hottest products, hollow brick machine is not only the amount of construction waste accumulation problem solved, is indispensable in modern adornment of building products.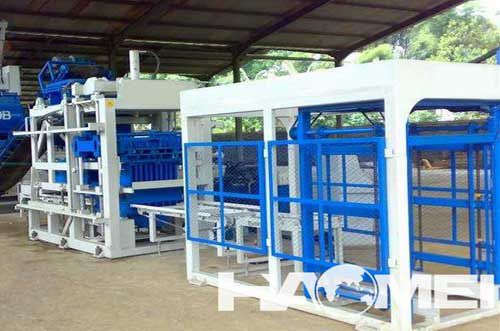 The superiority of hollow brick machine, through the use and test in the building, has been widely recognized by the design and construction department, the popularity of the market is increasing day by day, and received consistent praise, this decided that it will become the future wall material leading products. It is necessary to further improve the application status and development of domestic concrete brick making machine under the condition that various multifunctional brick making machines are gradually entering various enterprises. Haomei concrete brick machine mainly adopts hydraulic transmission, integrated oil circuit, electrical control, with high degree of automation, low noise, long service life, easy to operate, compact structure and other characteristics.
Hollow brick machine is suitable for producing hollow brick with low plastic raw materials such as shale, coal gangue, high content fly ash and barren soil. The hollow brick machine adopts an electric motor, which is driven by axial pneumatic clutch through the reducer to mix the upper part and the lower part to extrude synchronously, with compact structure and obvious energy saving effect. Reamer adopts wear-resisting material spray welding process, easy to maintain and durable. ZQ national standard reducer and axial pneumatic clutch are adopted in the upper and lower transmission of the concrete brick making machine. The machine body is all welded by steel plate. The surface of the reamer is sprayed with wear-resisting material, which prolongs its service life, makes it durable and convenient to operate.
Prev: Solution Of Jitter Of Brick Press Head
Next: How To Choose High Quality Cement Brick Making Machine